Photo Restoration Services
Old is gold or sometimes it can be priceless. Similarly, one old image or an album of old images may carry some memories that no one can ever buy. If these images get damaged antique photo restoration is the service of image editing that solves the problem. Photo restoration is the mechanism of photo editing service that repairs a digital copy of an image which has gone to a state that looks faded, dull, lifeless and brings them back to original or even better than that. Photos get damaged naturally due to age, weather or sometimes accidentally like by spilling water, ink or get torn. These unwanted tragedies can be overcome by picture restoration. Digitalization in photography has become very popular over the years. However, old printed photos are so memorable to us that if they get damaged we feel heartbroken. Therefore, photo restoration has become supremely important and part and parcel of image editing service.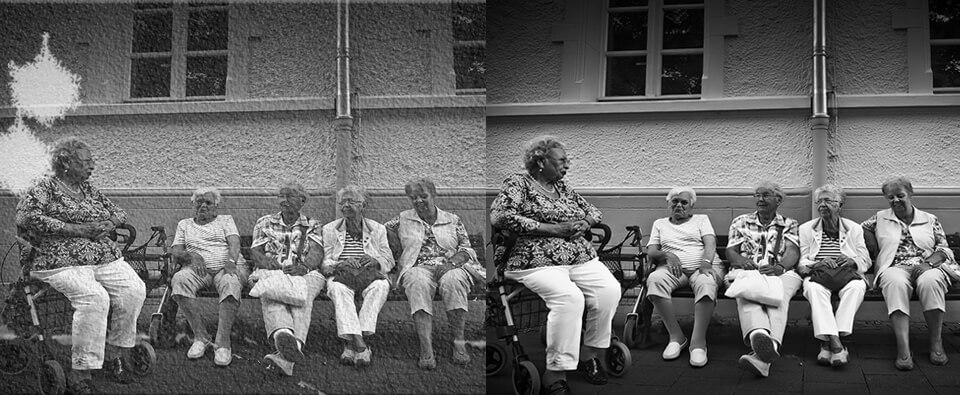 To restore a photo firstly it needs to convert from print to digital media. Then, specialized image editing works to solve the problems and allow it to restore the original state or even better. Professional designers need to work on scratch removal, color adjustment, vintage look restoration, damaged photo restoration etc.
We have been providing excellent service for several years and we have very experienced teams which are divided into operation and production departments. Our operation team is going to help you with your requirements, questions and provide you the services that you need 24 hours and our creative production team is going to use their experiences and work on your projects to make them look gorgeous. We always care about your full satisfaction. First of all, we get to know your complicit requirements, your taste, your style and we give our 100% effort to fulfill your satisfaction. We create a very healthy relationship with our clients and cooperate very friendly and make sure they leave with a smile after we serve them. If you are not satisfied with our work, we redo them for free and work until you are 100% satisfied.

We do serve all kinds of individual photographers, companies or agencies and online retailers. We care about the quality over quantity even though we are able to deliver up to 5000 images per day. We also offer up to 50% off on bulk order.
"We care for you and ensure the satisfaction which you demand the most"
Need a quick photo restoration services quotation? Attach some photos you need to edit and mention all your recommendations. Now, send your photos and get a reply within 30 minutes or less.