Vector Conversion Services
Vector conversion makes your images print-worthy for billboards, banners, corporate events, etc. Your regular images will look blurry if you enlarge them to the maximum but not the vector files. Raster to vector conversion preserves your image's quality with clean & greater details. You can use your vector photos for logos, banners, screen printing, automobile wraps, and many more without losing the quality.
Raster to vector conversion takes a lot of time. You need an expert's help to get perfect vector graphics. Professional vector conversion service provider can ensure the best quality vector images at a reasonable price. You can get your desired files within the shortest period for your next corporate event too. Get an outline of your business logo for carving on woods, crests, or even on t-shirts through the professional vector conversion services.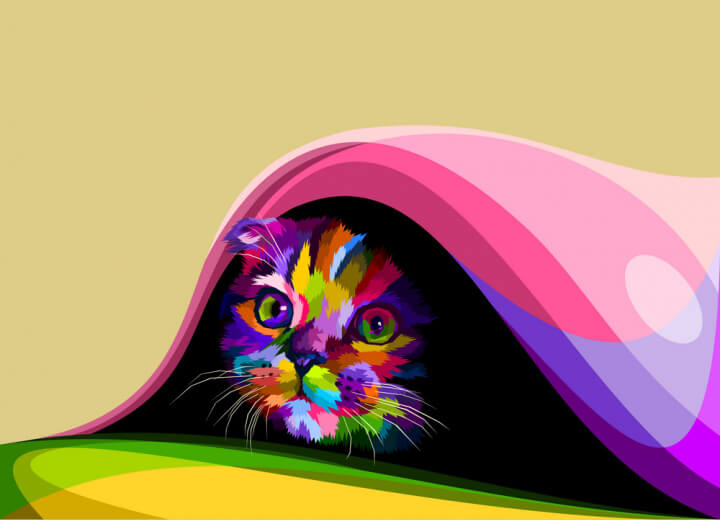 Need a quick raster to vector conversion services quotation? Attach some photos you need to edit and mention all your recommendations. Now, send your photos and get a reply within 30 minutes or less.
Raster to Vector Conversion Services at Clipping Homes
What is vector conversion?
Generally cameras take images in raster graphics. It is a combination of dots or pixels. This type of file suits our regular necessities. But they are not capable of handling our commercial needs. That is when you need to convert them to vector files.
Vector conversion is the process of converting raster graphics to vector graphics using Adobe Illustrator. It is also the manual recreation of vector lines from the raster files.
There is some automated process out there, but the end result is not quite satisfactory. The ideal way is to expertly recreate a raster image by hand in Adobe Illustrator. Vector images are also called print-ready image because it can be printed in any form of media in any size.
Raster image vs. vector image
Raster files consist of a series of pixels. Enlargement of these files results in bad quality and displacement of the shapes. It also loses pixel when the image file size gets bigger. This is one of the major issues of the raster image.
A raster image is full of pixels. It is generally smaller in size. It can be a great choice for an online store or website. JPEG, GIF, and PNG are common types of raster file formats.
A vector image is independent of any pixel or resolution. It is full of points that create a straight line or a curve line path. AI, PDF, EPS is the common used of vector file format. Vector files are ideal for printed material like business card, logos as well as used to sharpen fuzzy and older graphics.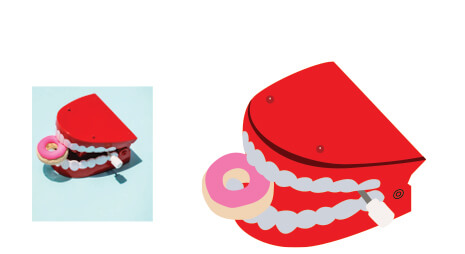 Who uses vector conversion service?
Raster to vector conversion service is the most popular service in Illustrator. Corporate offices use this service a lot for different purposes. People use vector conversion services to make banners, wrappers, billboards, printings, t-shirts, business cards, architectural designs, etc.
The world is full of numerous media and the number is growing fast. Business organizations use different types of info-graphics to uphold their identity. We call them business logos, slogans, and etc. They use them for advertising purposes mainly. That's why they need to enlarge them to use in banners, and in other advertising media. But enlarging often destroys the quality of raster images & however, raster to vector conversion service can end up this limitation.
Furthermore, they use vector images to make 2D, 3D, CAD design, and text to print digitalization. This is a labor-intensive job that requires highly skilled, experienced vector illustrators and CAD designer. Our designers are skilled at vector tracing, vector line drawing, and vector illustrations, etc.
How to convert a raster photo to a vector photo?
First, take a raster image to convert it into a vector image. Open the image in Adobe Illustrator and then take a new layer and then look at the first image layer.
Now, select the pen tool to create a path or in case of round shape, you can take the Ellipse tool to make a round shape.
After that, take the original color from the original image by using the Eyedropper tool and then use the gradient tool to fill color. Select the gradient type option and select Liner.
Later, you can select Radial if the image has a glowing effect in the center. Then fill the color and zoom it at its highest size.
No pixel will be visible and this is the vector image you are looking for. It is just a simple example of converting raster to vector illustration, but complex work like line drawing required patience, skills, and experience or a combination of all.
Well, the process looks simple apparently. But in deep, it is quite complex and high-quality vector illustration service is only possible for the professional vector conversion service provider company.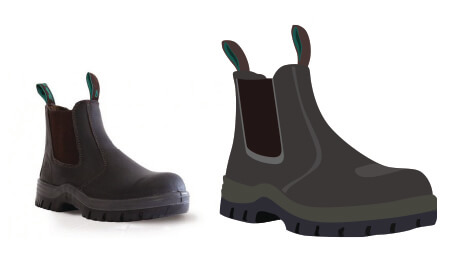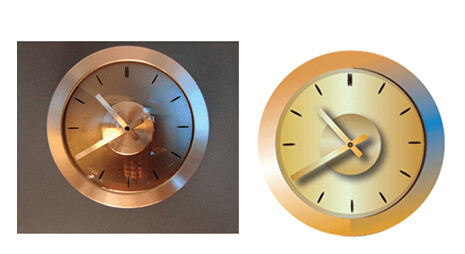 Vector to raster conversion
Because the vector image has more details, it is much easier to change it into a raster image. All we have to do is to use save a function to change the file type.
Vector conversion service at Clipping Homes
With years of experiences, we are able to provide you high-quality vector drawing with the quickest turnaround time.
Our designers are highly skilled in any type of vector conversion service including vector tracing, vector line drawing, and vector illustration service.
Our designers are professional, unique and business oriented. These logos can be used for t-shirt, magazines, etc.
Get your logos within the shortest delivery time. We are open 24/7 to serve your need. At Clipping Homes, we hand draw every vector image so that you get a clean and crisp image. Of course, we follow your requirements to the points all the time.
Our Vector Conversion Samples in Full Size